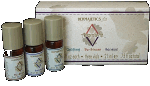 Code: 0342
AROMA VIE OILS
Set of 3  – 7ml each 
Price: £18.48
---
   Used for :-
* Create different moods
* Sensual – to enhance self image
* De stress – to help relax
* Uplifting – to help invigorate
---
A selection of 3 vials of ready to use Essential oils in carrier oils. Uplifting, De-Stress and Sensual.
---
Direction for using these essential oils
Simply dab a drop or two on your temples, neck and earlobes and watch your mood turn for the better.

When you combine the usage of Aroma Vie soaps with the Essential Oils, you enhance the effect.
   These essential oils are
Suitable for both men and women.
Showering or bathing with Aroma Vie Glycerin Bars exposes your entire body to the mood you choose.
   These essential oils contain
Sensual     Lavender, Sandalwood and Bois de Rose.
De-stress   Bergamot, Lemon, Mandarin and Orange.
Uplifting     Spearmint and Rosemary.

Contains no animal ingredients. Not tested on animals.
   This product has a
30 Day No Quibble Guarantee. Click Here for more info.