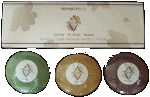 Code: 0349
AROMA VIE GLYCERIN BARS
Price: £11.63
3 bars – 100g each 
---
Used for :-
*  Create different moods
*  Sensual – to enhance self image
*  De-Stress – to help relax
*  Uplifting – to help invigorate
---
Uplifting, De-Stressing & Sensual Product for Shower & Bath. The 3 Uplift, De-Stress and Sensual Aroma Vie Glycerin bars help create different moods.
---
Direction for using these Glycerin Bars   
Lather over hands / body and rinse thoroughly and watch your mood take a turn for the better.
   These Bars are   
Unisex and suitable for all skin types. 
   These Bars contain 
Sensual      Lavender, Sandalwood and Bois de Rose.
De-Stress   Bergamot, lemon, Mandarin and lemon.
Uplifting      Spearmint and Rosemary.

Contain no animal ingredients. Not tested on animals.
   This product has a  
30 Day No Quibble Guarantee. Click Here for more info.